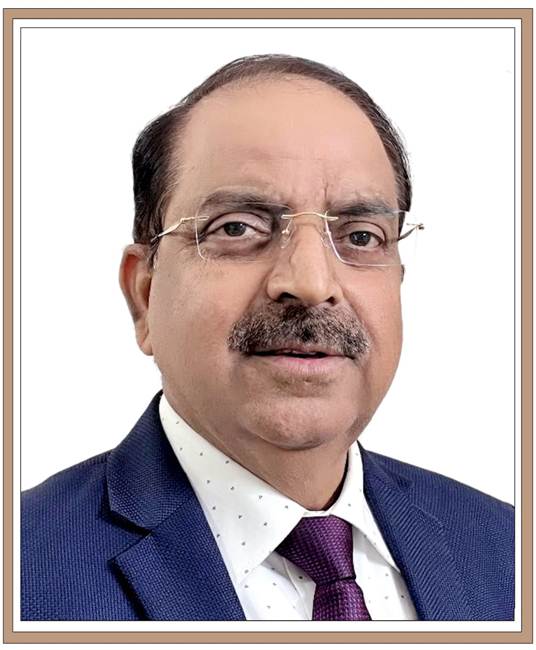 Dr. B.N. Tripathi, FRCPath
Born in U.P. on 20 July, 1962; Graduated from Veterinary College, Mathura, CSA University of Agriculture & Technology, Kanpur (UP), (now DUVASU), 1984; M.V.Sc and Ph.D. from Indian Veterinary Research Institute, Izatnagar (UP) in 1987 and 1990, respectively.
Administrative Roles
Deputy Director General (Animal Science), ICAR, New Delhi, 30th January 2020 to 19 June, 2023.
Director, ICAR-National Research Centre on Equines, August 2014-January 2020.
Director, CCS-National Institute of Animal Health, Govt. of India, Ministry of Agriculture & Family Welfare, Department of Animal Husbandry, Dairying and Fisheries, Baghpat 2012-2014.
Head of Animal Health Division, Central Sheep & Wool Research Institute, Avikanagar, 2009-2012; Scientist to Principal Scientist (1990-2008); ICAR-NRCE, Hisar & IVRI, Izatnagar.
Postdoctoral Scientist, Institute of Animal Health, Compton (UK), 1998-99.
Visiting Scientist, Moredun Research Institute, Edinburgh, 2003-04; International Wellcome Trust Travel fellowship, 2003-04.
International Travel Grants from Indian National Science Academy (INSA), 2005, Department of Science and Technology, Govt of India 2005, 2012; Asian African Society of Mycobacteriology, 2018.
Experience
Over 32 years, including 13 years of administrative experience.
Research & Technology Achievements:
200 original research papers in high impact journals, 5 books, 4 manuals, 5 technical bulletins, 3 policy papers, two National Action Plan (Disease control), 20 technologies (diagnostics & vaccines), 10 patents (granted/applied), 20 diagnostic and 4 vaccine technologies including Ancovax and Lumpi-ProVac vaccines, 9 patents, over 200 NCBI Accessions etc
Awards/Honours
Recipient of Sardar Patel Outstanding ICAR Institute Award, 2015 for ICAR-NRCE, Hisar. University Best Teacher Award, Supervised 16 PG Students, Drs Jain and Vegad outstanding pathologist award, 2006; International Wellcome Trust Fellowship (London) 2003, Best Research Paper Awards of IJVP 2003, 2005; Prof. Rama Rao Best PhD Thesis Award for three students, 2006, 2013; Dr. Talpatra Oration Award 2023, Dr. CM Singh Samman, Dr CM Singh Oration Lecture-2020, Dr. NN Dastur Oration Award, etc.
International visits for Research/Academic purposes:
Visited large number of countries for academic, research and as Govt. of India representative. Member of Indian delegation for OIE, WHO, SAARC, ASEHN, BIMSTEC meetings in India & abroad.
National coordinator of Animal Genetic Resources in India and Vice-Chair (Asian Region) & Rapporteur for 12th Inter-Governmental Technical Working Group (12th ITWC), FAO, Rome.
Elected Fellow of Science Academics/Societies :
Fellow of the Royal College of Pathologists (FRCPath), London UK; National Academy of Agricultural Sciences (FNAAS), National Academy of Veterinary Sciences (FNAVS), National Academy of Dairy Sciences (NADSi), Indian Association of Veterinary Pathologists (FIAVP), Society for Immunology and Immunopathology (FSIIP), Indian Society for Veterinary Immunology & Biotechnology (FISVIB); FIAAVR, Diplomat& Charter member Indian College of Veterinary Pathologists (ICVP) 2008.
Professional Excellence:
President, Indian Assoc. of Vety Pathologists (2019-2025);Chief Editor of Veterinary Pathology and IAVP Newsletter, 2006-2011; Secretary General, IAVP 2013-2016, Secretary, ICVP 2012-14; Member Task Force DBT, 2017-18; Member of Board of Management (BOM), LUVAS, Hisar (2014-17), GADVASU (2015-18, 2019-22); SKUAST-Kashmir (March, 2021-continues); Member of International delegation from ICAR for various meetings of BRICS, BIMSTEC, SAARC, ASEAN, FAO, WHO and OIE.